Finals are over! Christmas is here!!
This Christmas, I don't expect to be receiving many gifts because I'm going to be in Taiwan for the whole Christmas season. Since I'm used to making a little Christmas list every year, I decided to make a list of things I would like to buy for myself for Christmas (I would make a list of the fabulous things that I've already bought for other people, but that would ruin the surprise).
1. The Amazon Kindle! My local Barnes and Noble finally got a Nook in, and while I won't deny it's pretty amazing, playing around with it has helped me decide on the Kindle! Now the money-saving starts . . . .
2. Star Wars: A Pop-Up Guide to the Galaxy. Have you all seen the amazing things that are being done with pop-up books today? They are amazing. Seriously, the next time you're at Barnes and Noble or Borders, go to the children's section and check out the pop-up books. They are amazing works of art. Especially those by Robert Sabuda and Matthew Reinhart. I also would kind of like The Pop-Up Book of Phobias, but I'm afraid it would give me nightmares.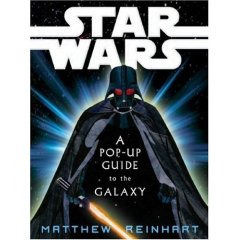 3. The Annotated Anne of Green Gables. I think someone I know is actually getting this for me, but I thought I would just mention how amazingly wonderful it is. It seems like no author makes more vague references than L.M. Montgomery. Even the quotes I think I understand I turn out to have never heard of before. I just wish they would publish an annotated edition of each book in the series. This reminds me of what else I dearly would like to buy: Looking for Anne of Green Gables: The Story of L.M. Montgomery and Her Literary Classic. I also discovered that if I owned a Kindle, I could own all of L.M. Montgomery's books for free! Oh the joy!
4. A lovely full spice rack. Lately I've been really into cooking, but it turns out that spices are expensive.
Okay, you know what? While making a fun little Christmas list seemed like a good idea in theory . . . now all I can do is think about the Kindle. So, this list is coming to an end so that I can spend some quality time on the Amazon website lusting after the Kindle.